Minecraft PE 1.18.30.04 for Android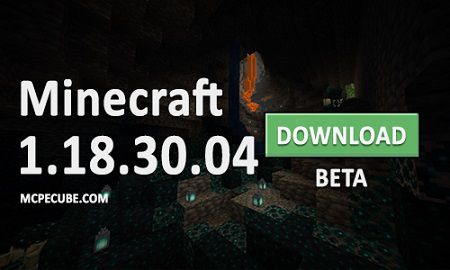 Friends, the week started with good news - the long-awaited full update of Minecraft PE 1.18.30.04 is already available for download. In this release, you will see changes in the interface of the Create a new world menu, updates to 73 parameters in the gameplay, improved steadily by fixing 75 bugs, and made 66 technical changes.



New world creation screen



The creators of the game have improved the world creation menu. Navigation got under changes, descriptions were supplemented and the design was improved.

Everything is quite conveniently located in sections and looks neat. Coming soon to all kinds of devices.



Changes



A total of 73 innovations were added.

The most basic:

• Now all changes from beta versions of Minecraft will be used.
• If Realms have not worked for more than 18 months, they will be deleted.
• The RenderDragon engine will be supported by all devices.
• Added content from the Wild Update and available in Experimental mode:

⁃ Warden
⁃ Allay
⁃ Ancient city
⁃ Dark Depths
⁃ Darkness effect
⁃ Skulk blocks
⁃ Boat with chest

• The developers have introduced the function "observer mode"



Fixed bugs



Fixed 75 bugs.

Details:

• Improved game stability.
• Fixed bugs from the test versions were transferred to the new update.

Bugs in the game

Found by developers two errors.

1. When teleporting mobs to unloaded chunks, creatures disappear.
2. When using the camera on touch screens, malfunctions occur.



Technical changes



A total of 66 technical changes have been added that will improve the work of testers and modders.
Minecraft PE 1.18.30.04 for Android