Minecraft PE 1.19.40.22 for Android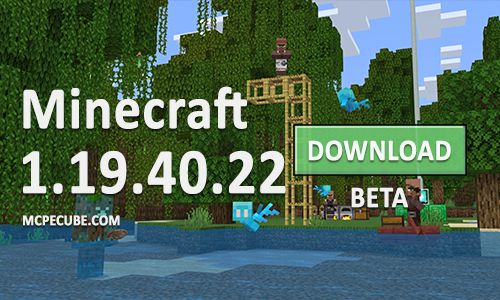 Beta version of Minecraft 1.19.40.22 fixes several bugs and adds small improvements. Added 1 change, 1 update for version similarity and fixed 10 bugs. Several technical corrections have also been made.

Changes

The biggest new feature in this update is the redesigned touch icons.

• Textures and icons have been updated in touch settings.

Version equality

1 update for more similarity between Java and Bedrock:

• In spectator mode, the player does not make sounds when exiting a column of bubbles.

Corrected mistakes

Here are the bugs fixed:

1. Scaffolding in the Furnace now burns faster.
2. Fixed the destruction of the layer of snow with a flower. This now results in color drops instead of snow.
3. To copy the bubble column, use the /clone command.
4. Arrows and tridents do not get stuck in the air.
5. The wither effect deals the correct damage to the player with armor.
6. The lighthouse stays in place, and no longer disappears.
7. Removed weapon changes from Drowned when attacking.
8. Fixed dragging items in armor slots.
9. Now the names of the Effects have more pronounced shades, for better recognition.
10. With the touch type of control, you can swap single things that do not add up.

Technical updates

In this section, the developers have made 8 new changes that have improved the work of addon creators and testers.

Attention! This is a test version, so always make copies of your worlds.
Minecraft PE 1.19.40.22 for Android