Minecraft PE 1.19.50.02 for Android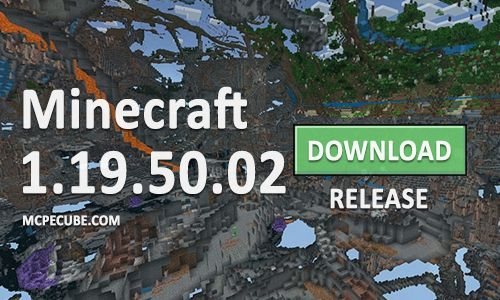 Download the new full release of Minecraft 1.19.50.02 to your device. A large amount of experimental content has been added, sounds have been reworked and the Vex mob has been updated. Pestal tested the Spectator Mode and added the whole feature to the game, new heroes and their skins appeared. A large number of bugs have been fixed, most of them have been moved from test versions.

Spectator Mode

Now this feature is officially added to the game and it is unnecessary to activate the slider in the settings! Main:

• To activate, you need to enter a command or turn it on in the settings.
• There is practically no interface.
• The character becomes invisible.
• At the same time, there is no influence on the world and its process - only the ability to fly even through walls and inspect territories.
• No sleep required to skip the night.
• Creatures do not spawn if there is only an Spectator nearby.
• It is impossible to die, no one can harm the player.

Touch control

Devices have been switched to a new game control option. More:

• There are 3 options.
• Turns on automatically when you enter the game.

New skins

Instead of Alex and Steve, you can choose 7 more heroes.

Vex

• Improved the appearance of the creature. The body of the creature looks smaller, and the wings have become larger.
• The hit area on the mob has become larger to simplify the fight with the mob.

Equality with Java

17 updates for more similarity between the two versions. Interesting:

• The sounds of using blocks are slightly better.
• Installing blocks works a little better.
• When the Spectator Mode is enabled, all user actions are terminated.

Experimental Mode

The switch has been returned to test content from a future update. What adds:

• Bamboo wood.
• Bamboo raft.
• Camel:

Lives in the desert.
Can be used as a mount and ride together.
There is a jerk function.
Requires rest and recharge.

• Carved bookshelf

Bookshelf option.
Holds 6 book options.
There are mechanisms from redstone.

• Hanging plaque

Plate option.
Can be installed next to or under any block.

Corrected mistakes

Added 79 fixes. All fixes were simply carried over from the test versions. There are no new moments.

Technical update

There are 44 items in total. All innovations are aimed at improving the performance of the game for the development of modifications.
Minecraft PE 1.19.50.02 for Android