Minecraft PE 1.19.62 for Android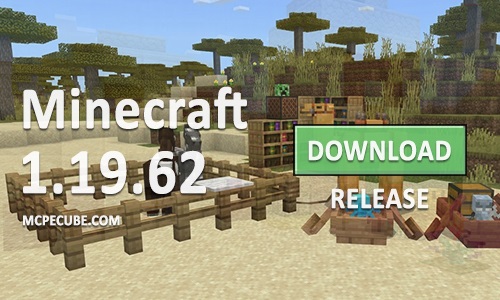 Released the full version of Minecraft 1.19.62 with several important fixes. The update fixes crashes and issues with skins. Game performance has improved.

After the full version of Minecraft 1.19.60 was released, players noticed several bugs that greatly affected the gameplay. The Mojang team has fixed all the bugs in the new update. The game world began to work more stable.

Corrected mistakes

• Eliminated all crashes from the Minecraft game.
• When logging in in LAN mode on a Nintendo console, the game runs smoothly.
• Loading the world in Realms using a template does not cause errors in the game.
• Classic Player Skins are installed on servers without errors.
• Now mailing with skins errors will not come.
• Gamepad cursor control in the Market has been improved.

Attention: now there are some problems with the version because it is not available for download. We expect files in the coming days.
Minecraft PE 1.19.62 for Android