Minecraft PE 1.20.0.24 for Android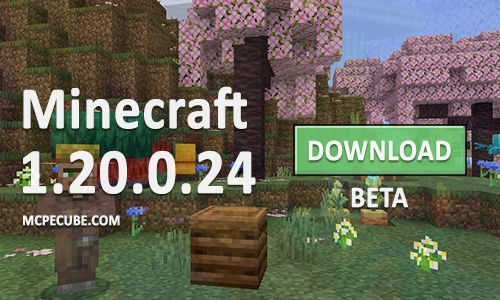 For Android users, the latest Minecraft update 1.20.0.24 is now available, which contains several improvements. Notable features include a brand-new achievement, an updated background for the main menu, and the elimination of seven persistent bugs that impacted gameplay.

Stay tuned for more updates as the game continues to evolve and improve!

Changes

There are three new features in this release. More:

1. The Cherry Blossom biome can be used when setting up seeds.
2. Adventurers can unlock a brand-new achievement that will add excitement and challenge. To do this, you need to collect eight patterns for armor.
3. The preview has been repositioned, tilted downward, injecting a refreshing visual dynamic that adds a touch of modernity to the interface.


Bug fixes

This time, 7 bugs were affected. Important:

• When teleporting into unloaded chunks, players will no longer experience the frustrating bug of continuous flying.
• High resolution textures are correctly applied. high-resolution textures are now correctly applied, bringing out intricate details with greater clarity.
• The restoration of Sniffer Egg sounds, which had previously gone awry.
• The bug that caused Pigs don't spawn in the new biome has been addressed.
• Fixed crashes from using items or breaking the Fishing Rod.
• Eggs for creating creatures from custom mods can be used in trade.
Minecraft PE 1.20.0.24 for Android