Knights vs. Rogues Map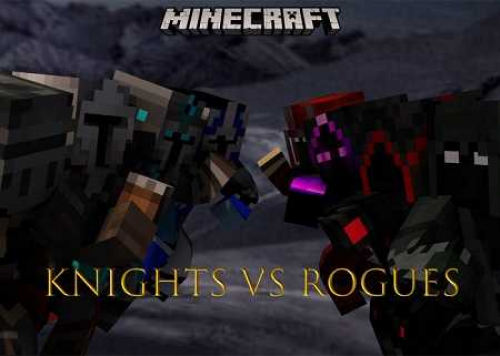 Knights vs. Rogues is a multiplayer minigame where you and your friends are divided into Rogues and Knights. Of course, some act as defenders, while others, on the contrary, are robbers. The task of some is to protect the lighthouse, and others to steal them. And which side are you on?

Rules of the game
This game is for you and your friends in Minecraft. Better if there is an odd number of players.

Team of Knights: You must guard 3 beacons from robbers. You will have your own base, where there are five sets of uniforms. Use them to protect the beacons.




Robbers: you need to take possession of the beacons by all means.
You will have 6 sets of equipment at your disposal, where each will have an iron pickaxe.




You will need to get into the castle, there are several ways to do this.
Main gate
Destroyed side entrance.
Jump up a tree.
Or use the back of the castle, where there are a bunch of entrances.




The photo below shows where these lighthouses are located: in the center, and on opposite sides of the castle.

This map has two versions:
Normal.
You do not have any additional functions, the robbers can choose the time of day to attack.
Special.
Each set will give players certain abilities. Each ability requires a cooldown.

Video review of the card below: