Chinese House Map for Minecraft PE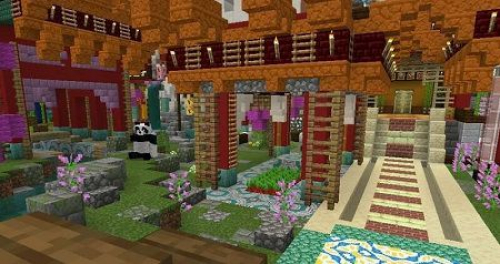 Chinese House maps are a selection of themed locations that reflect the culture of Asia. You can enjoy unique Chinese buildings without leaving Minecraft and immerse yourself in the history of this part of the world.

Asian Roofs

After downloading this assembly in the Minecraft game, you will immerse yourself in the unique atmosphere of Asian countries, with their characteristic architecture and wildlife. You will be able to meet elephants, tigers, crocodiles and other exotic animals on your way. There are also many mini-games available to practice your gaming experience.

It even has cultural monuments like the Taj Mahal and the Forbidden City. All architecture meets Asian standards, from Chinese to Indo-Arab culture.
Players will find a lot of cool - from tropical islands to snow-capped mountains.

Hangshui

The map is a huge metropolis inspired by the biggest cities in Asia. It has everything you need to survive and play in multiplayer mode.

What can be found in the city?

1. Guangxing Palace. This is a smaller copy of the Forbidden City in Beijing.
2. Places of rest - restaurants, cafes, cinemas, hotels, bakeries.
3. Urban infrastructure - parks, gas stations, roads, lighting, shops, metro parking.

Xiconglin

The map is designed in the game in oriental style. The author built a Chinese house, which is located within the metropolis. The architecture of this building reflects Asian culture.

The location has many buildings that can be explored with friends and used for multiplayer and role-playing games.


Chinese House Map for Minecraft PE