Death Race Addon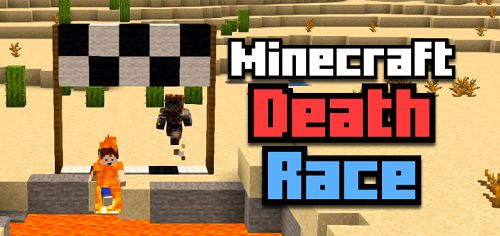 Get your hands on the Death Race Addon for Minecraft and embark on a journey of discovering fresh and innovative means of meeting your demise in the Minecraft universe. Brace yourself for an array of novel perils that will keep you on your toes!

This expansion will open up a new type of survival for you with alternative and dangerous adventures. You can take a fresh look at familiar processes, and even connect your friends to new entertainment.

The author noted that the mod requires activation of experimental settings for the mod to work correctly.



Distinctive Characteristics



At the core of the Death Race Mod designed for Minecraft is a defining feature: its unfettered unpredictability. In this intriguing mod, players find themselves unable to foresee the manner in which their own demise will transpire. The game world now teems with an array of novel perils capable of inflicting substantial harm upon the participants.



The developer has ingeniously crafted multiple scripts, ensuring that each player's experience remains entirely unique. It's not uncommon for one Minecraft PE character to find themselves entangled in a Zoglin's assault, while another may be relentlessly pursued by a horde of relentless goats.






Unpredictable Demise



The creators of the Death Race Mod certainly had a blast fashioning this intriguing addition. Within the realm of Minecraft, players are no longer subjected solely to conventional hazards; they now face roughly 20 fresh scenarios of accidental fatality.

Within this mod, the scenarios span a broad spectrum, encompassing everything from treacherous plummeting anvils, nefarious assaults by monsters, ferocious infernos, electrifying bolts of lightning, cataclysmic explosions, dazzling fireworks displays, and a myriad of other unexpected events. In this revised landscape, no soul is safe from the unforeseeable prospect of a heavy object plummeting from the sky or a bolt of lightning rending the terrain.



For those daring enough to tackle this challenge as a collective, the experience becomes all the more riveting. Each participant, however, is confronted with their unique peril, thereby maintaining an aura of suspense as nobody can foretell the precise nature of their impending doom.

To start the game, you need to enter the command.