Scythes: New Minecraft Tool Type Add-on 1.17+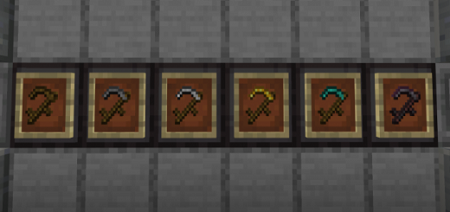 Surely, you had difficulties in harvesting, because there was no suitable tool that would facilitate the work. I can fix it thanks to Scythes: New Minecraft Tool Type. This addon adds a tool to the gameplay with which you can harvest without the need to sow your vegetables and wheat again.

This addon supports all blocks of wheat, orcvi, beet potatoes and warts. In this mod, you create and select a special braid for each block of your crop.

To find a crafting recipe and make a scythe, enter in the search in the craft table - scythe.



How do I use this tool?



The mechanics of using a braid are simple. During harvesting, press the corresponding button and the scythe will collect the vegetables, and sow them again for you.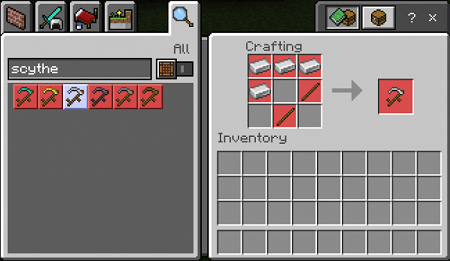 Different types of braids harvest different numbers of harvest blocks. For example, wooden and iron ones - they collect one harvest block, and gold and netherite ones several times more, but at the same time the tool loses its durability.

In the course of the game, you may encounter the fact that your scythe loses its strength, this is due to the fact that you are using it for other purposes, I recommend using it only to collect the appropriate blocks of the crop.

These tools from this add-on are not enchanted due to a certain bug.
Scythes: New Minecraft Tool Type Add-on 1.17+