Chikorita Lover's Coffee Add-on 1.18+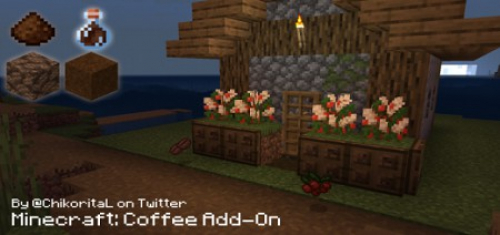 Are there coffee lovers among us? Then this is for you. The Chikorita Lover's Coffeeaddon adds new coffee items and blocks to the game. You can feel like a barista or even be at the origins of this wonderful drink and grow grains on your own. This will help diversify the game and add a wonderful flavor to it.



New items



Coffee bean

Seeds, with their help, you can get a new plant - a coffee bush, by planting it in the ground. Beans can be used to create other coffee-related items and blocks.



You can exchange beans with villagers - 18 coffee beans can be exchanged for one emerald, and itinerant traders can sell coffee beans for three emeralds.

Coffee plant

The bush is generated in the jungle biome. You can get coffee beans and coffee berries from it.

This plant gradually grows into full-fledged after 8 stages.

To get berries you need to destroy the tree.



Coffee berries

You can eat them to satisfy your hunger.



Ground coffee

It can be used in two ways: as decoration and block making, or as a product for making coffee bottles. Can be obtained from grains. The player can exchange ground coffee and emerald for a coffee bottle.



You can make a potion.

Bottle of coffee

This addon adds a new drink that has a caffeine effect lasting three minutes. Heals the player 2 units of hunger and gives 4.8 saturation



Another advantage is that phantoms do not attack players with the effect of caffeine.

You can buy the drink from Citizen Priests.

Coffee can also be brewed using a brewing rack, a bottle of water and ground coffee.

Block of coffee beans

These blocks are used for decorations, they are created from 9 pieces of grains. You can also store items there.



Ground coffee block

Similar to the previous one, used for decoration. You can also store up to 9 ground coffee.


Chikorita Lover's Coffee Add-on 1.18+