Thomas.exe Add-on 1.18+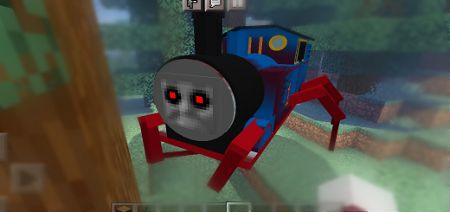 If you are familiar with the cartoon «Thomas and a Friend», then you will definitely like this addition. Now, thanks to Thomas.exe addon, a scary train from this cartoon will appear in the Minecraft world.

Below are the animation of the behavior of this train: movement, how it attacks and waits.

What functions does this character have:

Deals damage to creatures equal to 1000 units.

Has a great health of 5,000 hearts.

Can climb walls.

Destroys some blocks made of wood.

Experience: 100

Has resistance to throwing 100 units.

Movement speed reaches 0.35

Recognizes TNT blocks and avoids them.

Called using SPAWN EGG1.