Compressed Blocks Add-on 1.18+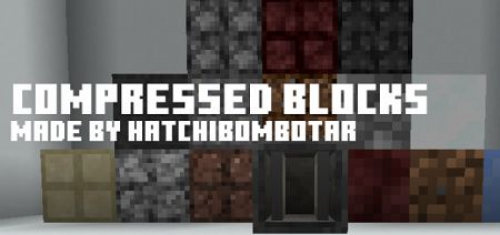 The Compressed Blocksaddon will allow the game's players to have advantages and new possibilities by making the blocks compressed or unpacked. These block parameters give additional properties to blocks, for example, compressing blocks, will allow the space in the inventory for efficient storage of things.

And with the help of decompressed blocks, you can create structures that will increase the player's speed.



First you need a compressor that compresses or decompresses blocks. The screenshot of the creation is below.



Blocks that can be compressed:


Cobblestone.

Compressed Cobblestone.

Dirt.

Gravel.

Netherrack.

Sand.

Paper (meaning all items made of paper).

And all blocks that can be unpacked.


Blocks that can be Decompressed:


Cobblestone;

Snow;

Dirt;

Netherrack;

Ice;

And all the blocks that can be compressed.


To get a compressed block, you need to add four materials to the created compressor.

For the reverse action, you put the material in the same compressor and take four blocks at the exit.

The block speed will depend on whether the block is compressed or not. This means that decompressed blocks give speed to the player, while compressed blocks slow them down. These properties can be used in the game to create various structures that will help the player or hinder other players or opponents.

In the animations below you can see how the speed depends on the block;

the first option is compressed paving stones, and the second is decompressed ice.
Compressed Blocks Add-on 1.18+