Cape Add-on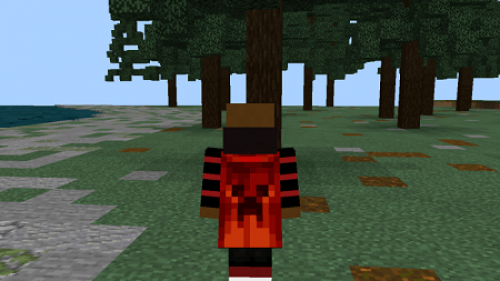 You probably know that capes are quite a rare item in Minecraft, but thanks to the Cape addon, you can get any cape, and you can also wear any elytra in Minecraft PE. Edit and upgrade your capes and make them unique. Some capes can be crafted and some replace items in the game.



Wearable Cape Banners



Thanks to this mod you will be able to decorate your cloak. You can also change the pattern of the cape. A total of 41 prints are available.
Cloak not available on servers. However, you can use it in the multiplayer world.



First, you need to craft a cape.

Crafting Recipe: Combine 3 strings, a white banner and a leather breastplate.

Approach the cloak and sit down to put it on.

You can change the color of the clothes. To do this, place the cloak anywhere, click on it while holding the dye. To add some kind of picture, use one of the items. For example, bamboo to make a bamboo cloak or a cactus. Lots of materials.

There are several interesting options, for example, TNT cape, to do this, interact with dynamite or Creeper cape. To do this, you need a creeper skull.

In order to remove the cape, you need to make a special item - a despawn stick. Right click on the cape and it will be removed.
To change textures and find crafting recipes, use the "/function cape_items" command.



New cape



This mod allows you to wear any elytra and cloak you want in Minecraft. You can also change the textures of things to make them unique. In total, more than 50 cape options are available.



The author of the assembly added animation to these items to make the cloak look more impressive.



Important! After installing and selecting options in the settings, you need to restart the game.