Nuke Add-on for Minecraft PE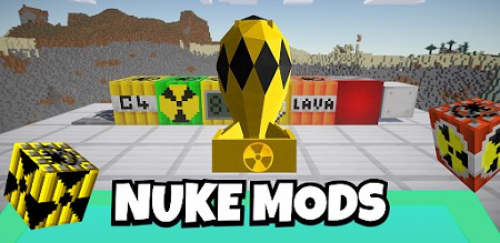 If you want to destroy something large-scale easily and quickly, then we suggest using Nuke add-ons for Minecraft. In this article, you will be able to find an add-on that is suitable for you, which will allow you to get a real nuclear bomb that you can drop in the desired place and arrange a large-scale explosion.



Nukes mod for Minecraft



TNT can be used if you need, for example, some kind of building, but if it's a huge mountain? That's what this mod was made for. It adds fissionable TNT blocks, the explosive power of which is capable of destroying half the world. The crafting recipe is quite simple.

In Surviva mode, these blocks are not valid, as they are very dangerous.



The radius of the bomb is 50 blocks. Damage can be received by all mobs, buildings and other structures that will be located there. And this is the action of only one such block.

If you install a large number at the same time, then the explosion will be large-scale and will be able to destroy a huge territory of the world. In this way, entire cities can be wiped off the ground. So be careful and use it wisely.





Nuke Addon



This addon adds new mobs - nuclear creepers. They are very dangerous, as they are able to destroy an entire building with their explosion. They are generated in the same way as normal ones.



The mod also adds explosive blocks that can destroy everything in their path.

If you are in a bad mood, you can destroy the whole world, but maybe this will make you feel better)


Nuke Add-on for Minecraft PE