Egg Mod for Minecraft PE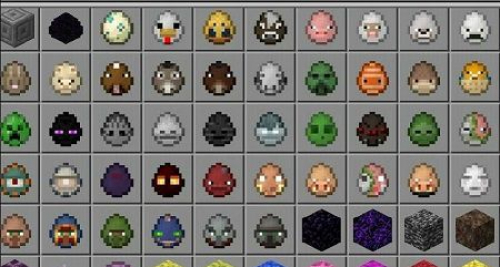 In Minecraft, you can summon some creatures using a special item - a spawn egg. The Egg mod will add even more of these items so that players can summon new mobs like dragons. New creatures can become your allies and play in your favor.

To make it convenient for you, in the inventory there is an image of each creature on the spawn egg.

Unspawnable Eggs

The name of this add-on speaks for itself, now you can spawn such mobs as Wither, or the Ender Dragon. This is much more convenient than writing commands and using special blocks. Also, this mod will add eggs for special creatures like little zombie rider and skeleton spider and other new mobs.

And to make you as comfortable as possible, the author added the ability to instantly receive a command block, structural block, etc. through creative inventory.



Unique Eggs

Minecraft beginners often have doubts and differences between the spawn eggs, since there is no image of the creature, but this mod solves everything. With the new feature, you will see an image of the future creature in your inventory, which will greatly simplify the game process and save you from confusion.



Dragons

Now you can raise a powerful and kind pet in the open spaces of Minecraft. In order to get the very egg from which the dragon will appear, you need to go through a whole adventure. First you should go to the forest and fight the troll, as soon as you kill him you will get an egg. Then you need to follow the cultivation rules to get the same dragon.

For quick hatching, build a Netherite Hatchery.

You can grow different types of dragons, but you have to hunt for their eggs. Depending on the species, you need to go to different locations, for example, the Spark of Light egg can only be obtained in the windy forest by destroying the tree monster.

But then, when you tame your pets, they will become your great helpers. You will be able to fly on them, and they will protect you from enemies.

The infernal dragon is the most powerful of all, it is dangerous, and can attack all the civilians of the village. You need to prepare for battle before you call him. The mob is notorious for dropping valuable items.