Wife Mod for Minecraft PE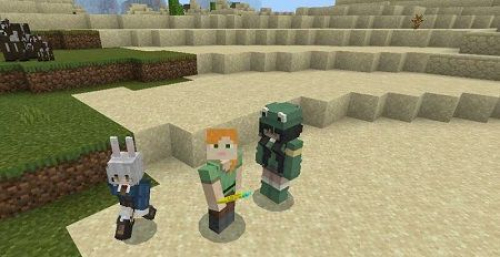 Wife mod makes the game world look like reality. You will be able to build relationships, chat with new girls and even create a real family.

Animal girls

The world will generate new inhabitants in the form of girls with elements of various animals. Although it looks funny, but you can build a real relationship with them and even get married in Minecraft.

To get married, you need to create an engagement ring from 7 ingots of gold and a diamond.

Ornamental dragon wings can be found in the creative mode inventory. They will beautifully decorate your outfit.

Each of the girls have their own characteristics. You can find them in different biomes, depending on the species. For example, a wolf girl attacks monsters and is generated in the taiga, and you can get milk from a cow girl and she lives in any biome, a zombie girl appears at night, will attack all your enemies after the wedding.




Family life

The Family Life mod expands the possibilities of Minecraft by adding new NPCs that will appear naturally in different parts of the game world. These NPCs can not only meet and chat with them, but also create a family, have offspring, and enjoy family life.

If you are tired of feeling lonely in the game, then the Family Life mod will give you the opportunity to experience new emotions and discover a new level of gaming experience.

To start a conversation, press the button that appears after aiming at the NPC.

Interaction Options

Any of the actions can have its own result. The mob or you will randomly show or lose happiness, romantic interest, friendship.

• Communication. It could be telling a story or telling a joke.
• Flirt
• Random
• Donate an item
• Shake hands
• Kiss

Status

As your relationship progresses, your status with your partner will change.

1. Romantic: Increased by flirting, increases the chance of a successful wedding.
2. Friendship: increased by conversation, interaction is simplified.
Wife Mod for Minecraft PE