More Body Actions Add-on 1.20+
More Body Actions Addon offers new features for your character that will diversify your survival. Don't worry, all the vanilla animations will be kept, and you'll get many more new ones. Different movement options will make the game more realistic and in some moments even practical.

Features:

Steve will now be able to crawl, sneak, sit at a table, and much more. When sneaking, players can crawl into one block's space, and while crawling, they can move through half a block. Remarkably, these movements are also viable underwater, allowing for easy navigation through narrow crevices.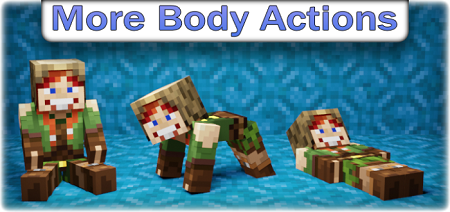 Instructions for utilizing the functions:

• In order for the player to sit down, for example, at the table you need to sit down and look down.
• To lie on the ground or on another block, you also need to crouch, but only look up.
• In order to start crawling on the ground or on any other block, you need to sit down and press forward.
• And for Steve to start sneaking, it's enough to sit down and start moving.

Furthermore, users have the option to adjust the mod's settings or deactivate the functions entirely. Additionally, there are commands available to animate various movements, which can be utilized at the player's discretion.

Changes in the new version

• Improved animations.
• Fixed critical bugs.
More Body Actions Add-on 1.20+