MMO SWORD V1 Addon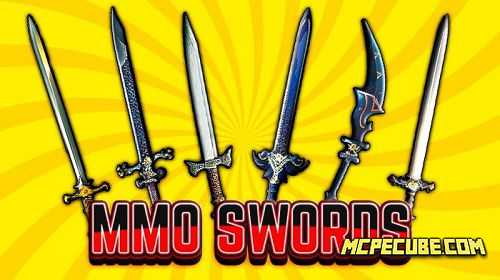 The MMO SWORD V1 mod is an innovative add-on that introduces Minecraft players to a unique arsenal of extremely powerful swords. Each blade has its own unique essence, carefully crafted in detail, which brings incredible emotions to gamers. In case the ordinary swords that are present in the Minecraft universe are already a little fed up, this add-on is able to restore the drive and excitement during the game. Diversify your experience and discover a whole new standard of swordsmanship.

Activation of experimental settings is required.

Functions

• New design for six swords.
• Various characteristics and application features.
• New emotions from the use of weapons.

Custom swords

Description

If you are a beginner, then this information will be useful to you.

Custom swords mean blades that are introduced into the game through modifications or extensions created by gamers or developers, as these weapons are not in the standard content of Minecraft.

Such items may have custom characteristics, designs, textures, enchantments, or abilities that distinguish them from standard swords in the game. Such weapons are often designed to bring new experiences and harness new possibilities in the cubic universe.

Weapons can be simply with a new design or with absolutely incredible features.

Screenshots and crafting recipes can be viewed below.