Enhance Vanilla Texture (WIP)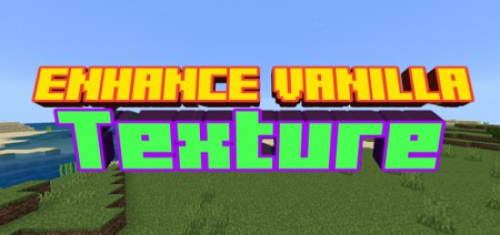 Enhance Vanilla Texture (WIP) is a texture pack that enhances and adjusts the graphics in gameplay from Vanilla Minecraft. All this is done for even more enjoyment of the game in the survival mode.

Improvements have been made to some items, indicators, celestial bodies and other elements.

This improvement is still under development, so there may be some points in the process.

What changes awaits you with this pack? The list along with a photo is presented below.

Well, first of all, there is a сhange in the texture of the door.



Improvements have also been made to Netherite's tools.



Glass without borders.



Serrated Helmet Graphics.



Transparent Jack O 'Lantern Overlay has changed.



Clean Redstone now looks like this.



Armor Stand Hand.



Note the display of the Numbered Quick Access Toolbar.



Full leather armor.



Now the Circular Sun and Moon looks like this.



Totem wing graphics.



This is texture of pumpkin and melon stalk texture.



Changes to the texture of wooden tools.



Also stone tools.



Added another block breaking animation.



Improved texture of Indicator, crossbow and damage to anvil, chest that is stuck.



Symmetrical command block structure looks like this.



And at the end of the Boundary Ore schedule.


Enhance Vanilla Texture (WIP)