Natural Texture Pack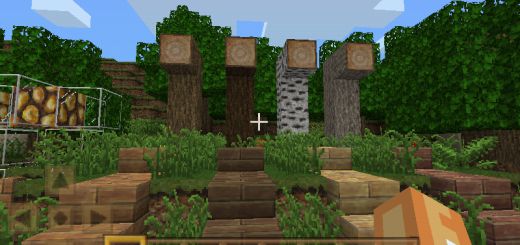 Fill your Minecraft world with reality by installing Natural Textures. This pack will add many new textures and change your game. This build touches on many aspects of the game, including food, some items and blocks, creatures, and many other elements.



Description



This pack of textures for MCPE combines two styles. It provides both realistic textures, but you can also find cute baby faces on animals. This approach makes this build special and interesting for a wide range of players.

There are several versions of this pack, read and download the one you like.





Natural texture pack



This is a vivid manifestation of the mixing of the two styles, it seemed that it was impossible, but by installing this assembly you will understand. It is here that you can find realistic textures of caves, but at the same time creatures with extraordinary faces that children like so much.

With all this, the world looks brighter and cooler.



Natural textures part 2



This is the second part of the Natural Texture Pack update, it has similar textures, but some more elements have been worked out.

Now the pack modifies the Minecraft game world, affecting inventories and workbenches, as well as some types of food.

Products (some vegetables and meat) have acquired a more natural look.



Natural texture pack part 3



This set is compatible with new versions of Minecraft.

Also added new textures for dynamites, building blocks and some other items.

This version of the Natural Pack is analogous to the popular Faithful pack.

As you travel and explore the game world, you can see other benefits of the Natural Pack.