Minecraft PE 1.20.40.23 for Android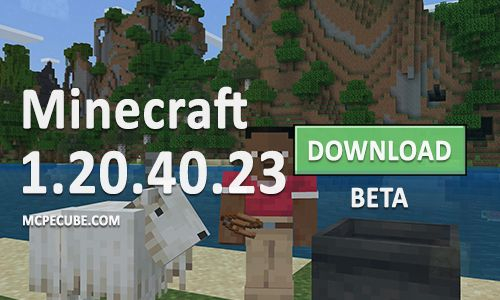 If you want to test the new version of Minecraft PE 1.20.40.23 on your Android phone, then you can download this version. This edition introduced two new elements and successfully corrected ten detected errors.

Changes

• Players using Leather Boots will now fall into Loose Snow when falling from a height of two and a half blocks.
• Particles generated by splashes in Minecraft will now appear in the character's waist area.

Corrections

• Fixed the sound of throwing into water.
• The 3rd person camera no longer passes through the cauldron.
• When someone falls on a loose block they no longer take damage from it.
• The volume level of the sound produced by the Goat Horn can now be adjusted using the slider in the settings menu, which is linked to the Note Block.

• Mobs will no longer get stuck when moving.
• Random lights no longer appear in the world without a source.
• Bugs with Sniffer have been fixed.
• We adjusted the first-person display of a fishing rod with a distorted fungus.
• Water blocks are loaded correctly.
• Placing items in the left hand slot will not cause them to fall out.

Technical update

Several changes have been made for add-on developers.

We warn you that when installing the test version you may lose your game progress, so we recommend making backup copies.
Minecraft PE 1.20.40.23 for Android