Minecraft PE 1.18.20.25 for Android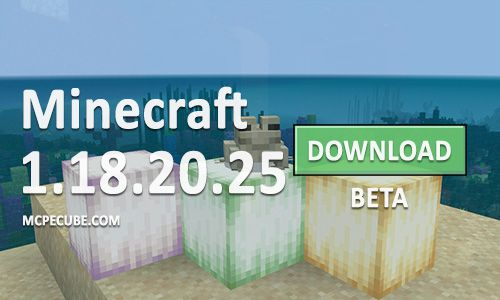 Already by tradition, every week developers delight users with new products, and this week this is a beta version of Minecraft 1.18.20.25. In this assembly, we made some changes and fixed critical bugs in the game.

Experimental features


Fixed Frog Spawn being invisible when viewed from below.

Frogs and Turtles are lured vertically.

The goat horn animation works in 1st and 3rd person.

Fixed arbitrary rotation of the frog light block.

Frog Light block now with new textures.

Added the sound of the Goat Horn falling from the animal.

Changes

If the player is using the new UI, the resource pack window is now available to them.

Version equality

Changed fasting speed to match Java.

Technical changes


The player can adjust the speed of fasting through the options in the behavior settings.

Fixed issues with GameTest Framework.
Bug fixes
The bug due to which mobs received fire damage, although they had the effect of resistance to fire, has been resolved.

Entities do not jump out of boats, even if they can.

The /playanimation command will update the appearance of the player and character thumbnails in the inventory.
Minecraft PE 1.18.20.25 for Android