Minecraft PE 1.19.60.22 for Android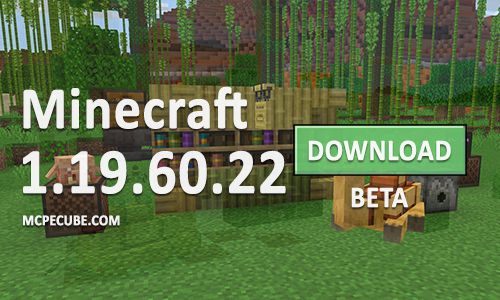 In the first days of winter, the developers decided to please the fans of the game and released a test version of Minecraft 1.19.60.22. Dozens of innovations have been made that have content with improvements of the next major update 1.20, various bugs have been fixed.

Experimental features

Improved experimental content capabilities. Namely:

• Fixed the use of Bamboo Planks and Slabs when crafting.
• Bamboo Mosaic does not count as a Plank when crafting.
• Fixed Bamboo Blocks in inventory in Creative Mode.
• Updated the appearance of Bamboo Blocks.
• Fixed installation of the Saddle on Camels.
• Equipment is placed on a tamed Camel when it is dropped by the Dispenser.
• Mob sounds on Note Blocks are better regulated.
• Improved the installation/removal of Books from the Carved Bookshelf.
• To remove Books from the Carved Bookshelf, you need to hold the Book in your hand.

As a reminder, the changes above are only available when Experimental features are enabled.

Changes

In this update, you will be pleased with 7 new features. Main:

• The night is skipped even if players in other dimensions are awake.
• Added new features for Distributors:

You can shear Sheep, cut Snow Golems or Mushrooms.
Can properly equip creatures with equipment.

Corrected mistakes

There are 20 points in this section, due to which the game process has now become much more comfortable and enjoyable. More:

• Fixed night skipping when in different dimensions.
• Servers don't stop due to dropping items or sleeping.
• Fixed menu sounds.
• Resumed the sale of the Tension Gauge at the Archer Merchant.
• Notifications are closed with touch buttons.
• Fixed Vex lighting.
• Compared the appearance of Vex in Bedrock with Java Edition.
• Fixed the light level for monster spawning in the Nether
• Fixed the use of equipment items on tamed animals.
• Seeds are not repeated when trading with the Traveling Trader.

Technical update

This time we added 8 innovations that stabilize the gameplay and improve the work of testers and developers.
Minecraft PE 1.19.60.22 for Android