Minecraft PE 1.20.30.24 for Android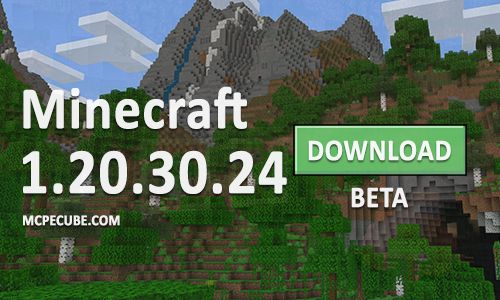 If your intention is to test the latest updates and new features provided by Mojang for Minecraft PE (Bedrock) version 1.20.30.24 on your Android device, then you can proceed to download and install this beta/preview version.

The developers of the game have been hard at work making three major changes, fixing eleven issues, and implementing twenty technical modifications.

Changes

• More elements of the Death Screen can now be edited.
• Balloon works with Camel and Sniffer.
• Players can now receive three messages when disconnecting due to a bug.

Fixes

• If you click the Update button, you can go to the feedback page.
• The player plays sounds when entering and exiting the water.
• No more bugs with block rendering.
• Tension sensors are activated in time regardless of directions.
• Concrete powder blocks are the right color.
• Camera commands are no longer ignored.
• The name tag is displayed correctly.
• If a burning mob attacks other mobs, they will light up.
• Dolphins rise to the top.
• Corrected some points in the interface.
• All buttons on the death screen of the player are displayed without errors.

Technical update

More than 20 updates in this section are aimed at improving the work of modders.
Minecraft PE 1.20.30.24 for Android