City Template Map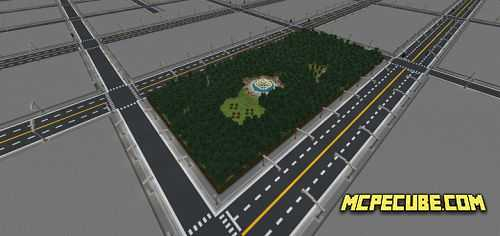 Are you weary of the monotonous task of constructing roads, street lamps, and sidewalks over and over again in Minecraft? Have you ever dreamt of embarking on a grand Minecraft City project? Your aspirations can now become a reality with the introduction of this straightforward "City Template" map.

This map serves as an interactive guide that offers a visual tutorial on crafting remarkable road systems and installing functional traffic lights. In the realm of urban planning, aesthetics play a pivotal role, and this template equips you with the knowledge to create visually appealing road networks. By mastering these fundamental skills, you'll free up mental space to concentrate on precisely positioning your commercial and residential structures within the cityscape.

Furthermore, the map already boasts an impressive park situated at the city's heart, ready for your exploration. It is our sincere hope that this map proves invaluable in enhancing your city-building expertise. Once you've completed the initial layout, feel free to expand the road network as your vision for the city evolves.

Within this map, an assortment of plots awaits your creative endeavors, varying in size from the immense to the petite. What's more, the author has thoughtfully configured it with a build-level resting at Y level 20. This strategic elevation offers you the flexibility to craft subterranean havens or fortified underground bases to complement your architectural aspirations.



Function



Massive areas where you can build huge buildings or skyscrapers.



C-type plots for creating connecting sections between a road and a building, for example to create a parking lot.



Small plots, for creating large-scale buildings, such as a house or a store.



Built-in park- a plot with a park and a fountain, as well as an underground room.



Built-in Lights allows you to create lighting for your city.