TNT World Map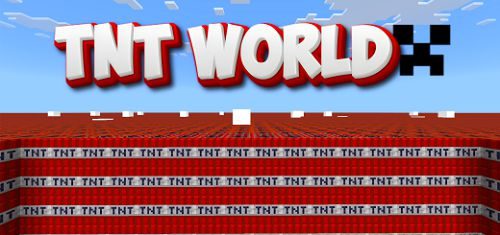 Get your hands on the TNT World Map: Navigate through a realm where blocks detonate continuously, and hone your agility and acumen! On this map you can feel all the risks of survival in Minecraft. Here you will learn new skills to pass all the tests.

Different difficulty levels will get your adrenaline pumping. You can share these thrills with your friends while playing together.



TNT World



In this map, you will face difficult challenges and simple survival skills will be weak. Experience and strategy are the key to success and passage here. You will stand on the ground as if on a powder keg. If you set fire to one block, everything around will explode. But as soon as the blocks disappear, you will be able to walk through this area without fear of being detonated.


TNT Run

Prepare for a relentless test of agility. The TNT World map is an intricate gauntlet comprising treacherous blocks, each to be tread upon just once, necessitating unceasing sprinting and leaping to endure.

As the odyssey commences, players find themselves in the lobby, an arena where they acquaint themselves with the game's parameters.



Diverse Modes:

The TNT World map offers an assortment of modes, allowing Minecraft users to opt for PVP battles or assume the role of a detached observer. Additionally, they can fine-tune the challenge's difficulty level to suit their preferences.

A distinctive facet of this locale is its categorical exclusion of the creative mode. Thus, players are precluded from casual exploration, living on the precipice of peril at every instant.