Minecraft Venus Planet Map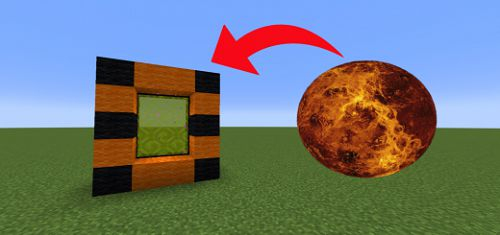 The Minecraft Venus Planet particular map showcases the mesmerizing landscape of Venus, featuring an array of elements such as rockets, satellites, and location towers scattered across the planet.

The celestial atmosphere is adorned with a distinctive yellow hue, both in the sky and the water. Notably, there's an intriguing Nether Biome adding a unique dimension to the scenery.

The overall aesthetic of Venus is enhanced through the application of a captivating yellow texture throughout the map. It's a custom-designed map that invites users to immerse themselves in the creative process, encouraging the construction of various structures and installations. Feel free to download and explore this uniquely crafted Venus map for an engaging and visually striking experience.



Venus House



On this map, you'll discover a dwelling designed for farming activities, equipped with essential and vital amenities. Within the confines of this abode lies a chest box, providing a repository for your resources. Moreover, tucked away in this residence, you'll stumble upon a collection of rockets, adding a touch of adventure to the domestic scene. The property is adorned with a car and a flourishing tree, creating a harmonious blend of functionality and natural aesthetics.





Spacecraft



Explore the cosmos with a glimpse of two expansive spacecraft on this map. One hovers above the surface, while the other stands tall and proud. These colossal vessels boast spacious interiors resembling contemporary, aesthetically pleasing rooms. Dive into the living spaces within, marveling at their beauty and functionality. To further intrigue your exploration, numerous chest boxes are strategically placed, offering a repository for your discoveries and essentials.





Satellite



Behold a towering and expansive satellite, reaching great heights with its substantial size. Within its voluminous structure, numerous rooms offer accommodations for extended stays.





Location Tower



In this virtual realm, two distinct location towers stand tall, accompanied by a quaint small house adorned with glass surroundings. These towers serve as vital hubs for information exchange within the game's dynamic landscape. A juxtaposition of a sizable tower and a more diminutive satellite dish further enhances the technological ambiance.

It's worth noting that in the real context of Venus, towers or satellites cannot be erected due to certain limitations. However, in the game environment, these structures have been thoughtfully incorporated, adding an extra layer of strategic gameplay and immersive elements to the virtual world.





Rocket



Behold, a soaring spacecraft awaits your adventure. This rocket promises an exhilarating ascent to impressive altitudes. Equip yourself with a space suit, ready to explore the vastness beyond the Earth's atmosphere. Embark on a journey that defies gravity, reaching new heights with this flying rocket as you traverse the cosmos in style.





Venus Planet



Venus' atmospheric canvas is painted in a distinctive yellow hue, where the Sun almost eludes visibility. Venture further, and you'll encounter an intriguing landscape featuring yellow-tinted "water" on the planet.



Beware of the numerous craters dotting the surface, ranging from small indentations to vast chasms. The very soil beneath your feet is cracked, posing a potential hazard; tread carefully to avoid unintended descents into these crevices, as survival in such scenarios can prove challenging.



Marvel at the diverse topography adorned with both towering mountains and diminutive hillocks. Rivers meander through the terrain, resembling streams of yellow liquid—although, in truth, they are crafted from the curious substance of yellow glass. Engage with this unique environment, where the fusion of vibrant colors and varied terrains on Venus creates an otherworldly and captivating experience.
Minecraft Venus Planet Map