Hello Neighbor In Minecraft Map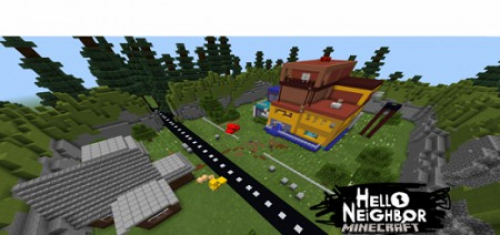 Welcome to the Hello Neighbor In Minecraft horor map. This map is based on the survival horror computer game of the same name. You will have the task of sneaking into your neighbor's house unnoticed and passing all the tests. It will not be so easy, because an atmosphere of fear and anxiety, similar to horror game, will accompany you.

Well, are you ready to take the risk and go on such a journey?

In the new version of the map, new items, furniture and traps have been added. Improved neighbor texture and added animation to his actions for maximum consistency with the original game. Fixed some bugs.

BendyTheDemon card creator.



Preview



The game begins with the fact that you notice that your neighbor is behaving in a very strange way. Then some screams from home begin, you understand that someone is asking for help. You decide to go and check how things are going there, suddenly something really terrible is happening there ...





Rules of the game



Your task is to look for the necessary objects in which puzzles of varying difficulty will be hidden. You need to find answers to them in order to open the door to the basement. Don't fall for the traps. At the same time, it is impossible for a neighbor to see and catch you.


Hello Neighbor In Minecraft Map