Erbeyyy Skyblock Map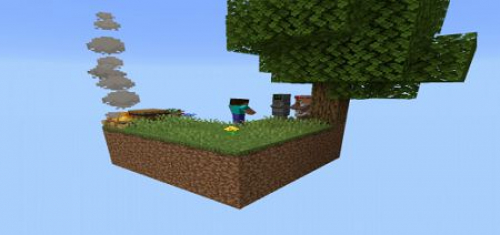 I want to tell you about the Erbeyyy Skyblockmap. Here, in addition to the fact that you can have fun on the map, you will also have the opportunity to bargain with a local resident, as well as navigate the map through portals.

This is a great map, install and have fun, you definitely won't regret it.



What can you do on the map?



In the lobby you will have control to go to the territory of the island. At this location, you will meet a merchant and an NPC. You can purchase some resources from the villager if you want.

After the deal, you can choose to go somewhere, for example, to the Nether or to the End.

This can be done with the help of NPCs or again in the lobby using the buttons.

In the Nether, you will have an exciting journey, as there you can explore the castle and find a lot of cool items.

Follow the rules for creating portals, otherwise you can move to the wrong place.

In general, the author has made a lot of interesting puzzles on the map that will either help or hinder your journey.

In addition, you must use resources wisely, you never know what will be useful to you at this very moment.

Below is a photo of the starting point in the Lobby.



Menu Settings



Screenshot Island



What can you take from the Villager are in the photo below.



Some photos of the Nether



End