Stronghold Below: Lady Dertch Edition Map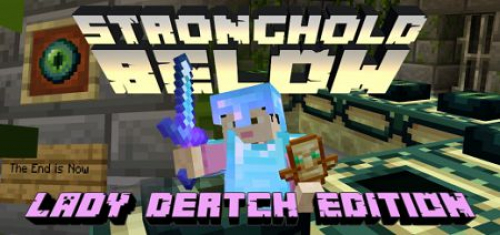 Great map Stronghold Below: Lady Dertch Edition, where you find yourself in a city called Enderville. Moreover, you are not just an outsider, but the mayor of this city. Your task is to revive this area and make it prosperous. In addition, you, as a leader, must protect the territory from the Dragon.

The map is designed to be played in survival mode. Achievements activated. There is a fortress on the map, in which there is a portal to go to the End dimension and fight the dragon.



What is on the map?



At the beginning of the journey, you will receive an initial set of resources, which is intended for three players.

The territory of the city is safe for you. All creatures that are inside cannot leave the territory, and others cannot enter.

There are villagers in the city.

The design of the city has been updated and become more beautiful.

Flowers and trees grow throughout the territory, which decorate the city.

Maps with positioning markers in the Map with Locator game have an area of 9 km2.

There is an auto-smelter, with which you can quickly melt blocks.

You can go to the Nether at the level of the wreckage.

Mob Blaze will spawn in fortresses.

Skeleton grinder - a mechanism that can be installed on skeletons to receive drops.

On the territory, there is a farm with villagers.

Bamboo, sugarcane, Nether Wart grow here, you can also collect honey.

You will receive Lady Dertch's equipment and armor.

Has an enchanting table, lapis lazuli and enchanted books.

At the start of the world, the mode is "peaceful"; you can change it in the settings.


Stronghold Below: Lady Dertch Edition Map