PewDiePie Map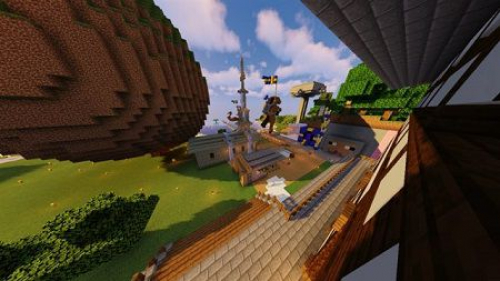 The most famous YouTuber on the planet - PewDiePie plays Minecraft and created his own map called PewDiePie. You can walk around the town of Broland and explore its architectural sights, meet a water sheep, Jorgen and just enjoy the beauty of the author's work.

The Broland map has become very popular, as many fans have watched the blogger survive in Minecraft and wanted to visit his interesting world. Moreover, the author has made this map available to everyone.



The PewDiePie map is the world where Felix's survival began not too long ago. On the territory, there are interesting sights that are definitely worth a visit. True, you will have to make an effort to find them, but it's worth it.





What sights are on the map?



The author created mysterious and bizarre buildings. Discovery map and is unique and original.

Among the sightings is a statue of Meatball. Inside the building there is an elevator, you can climb the house. As a YouTuber, you can create a bee farm in it and collect honey and honeycombs.

This beautiful place also has an IKEA tower and a pool with a slime block as a trampoline.



It also has the highest growth rate.

Walking is just a pleasure for this creative creature.

No need to look for chests, because they have useful resources for you.



Author's style

As you know, many are found in the Swedish style, since the author of PewDiePie is from Sweden. However, there are also some Japanese-style buildings, as the creator likes the cultural coverage.

Therefore, it's obviously impossible to combine the two styles, but PewDiePie did it. The result can be verified by the constitution of the map itself.