Baldi Basics Map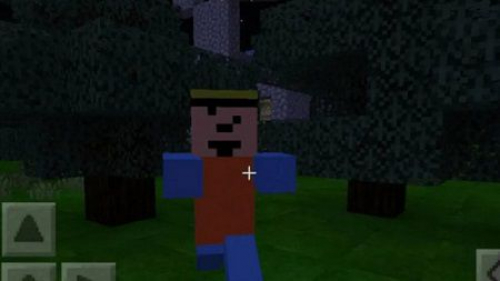 Meet Baldi Basics map for Minecraft PE. This map is a remake of the popular horror game Baldi from Mystman12. Your goal is similar to that game, find certain items on the list (buttons) and don't get caught by the terrible teacher Baldi.

Below are several types of cards with such an adventure. You can play all these cards on your own or with friends.



Find a button



This map has a plot. Your friend forgot his notebooks at school and asked you to pick them up. You will need to collect all the notebooks that are located in different areas of the school and find the hidden button.

Nevertheless, do not forget that the gloomy teacher Baldi is watching your actions.

For a more exciting passage of the game, you can play with friends.





Multiplayer



On this map, you are in a math class. However, your teacher is a little off-balance and gets irritated when he gets the wrong answer. Therefore, solve all problems correctly and be an exemplary student.

The school has many available rooms, you can walk around and maybe you will find something interesting.

Be sure to visit the library. There are two players in the game, one of which is the teacher and the other is the student.

You can see how the map uses regular blocks to create something bigger.





Mountain tour



All the action of the map takes place in the forest. You and your teacher go hiking in the mountains. It's cold enough out there, so I hope you know how to start a fire.

After all, this will be your task, and Baldi does not like it at all when someone does something wrong. He becomes ferocious and can do anything to you. So grab your sticks and start a fire.

This teacher is really crazy because he sets traps everywhere, be careful not to fall into them.