Sister Location Map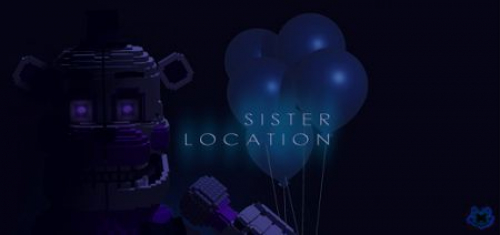 The Sister Locationmap is based on the famous horror game "Five Nights at Freddy's: Sister Location". This series of games with a story has become popular in the open spaces of Minecraft. Users really liked the interesting mechanics of the game, which is accompanied by scary sounds and unexpected moments.

This game consists of five parts (nights). Each night is accompanied by a certain plot action.
You will play as the main character Mike Afton, who worked in a toy factory. But this factory is inhabited by animatronics. They are cruel and strong and most of all want to kill you.



Night 1



This map is the simplest and not so scary. So to speak, introductory. Don't forget to turn up the volume in the game. You will hear the voice of the narrator talking to you. These are the voices that will help you throughout the map. This whole part of the game is based on walking and pressing buttons to get familiar with the mechanics.
But at the end, an unexpected moment awaits you.





Night 2



This is the second part in a series that allows you to play on the second night out of five possible nights.
You will have tasks and here you will already encounter those very terrible bears. Be careful as they are very strong and dangerous.





Night 3



The third part continues to introduce you to the game and its scary moments. There will be new textures that will also bring additional horror to the player.





Night 4-5



This is the last step you need to go through. Prior to this event, the Protagonist ended up in Funtime Foxy when returning to the Primary Control Module (Night 3).



You were dressed in a certain suit. Your task is to get out of there as quickly as possible and survive at any cost. In the final scene, you will be sent to a room where you will be congratulated.