Five Nights at Freddy's [Realistic] Map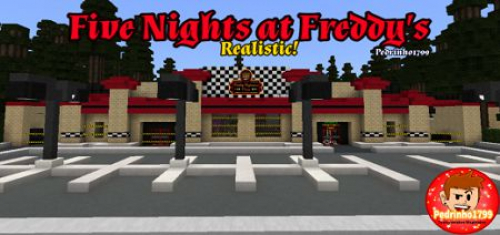 Friends, I want to introduce you to the Freddy Fazbear's Pizzamap. This is only the first version of a series of games with the same name. A total of 7 maps are planned that will recreate this game, as well as additional textures for realism and atmosphere.

The author created a map with details identical to the PC game. Various items and blocks complete the build and create an incredible terrifying atmosphere.

On the map, the player will be able to spend time on unusual entertainment attractions, find Easter eggs, and explore secret places where he will find a lot of useful things.

Photo of the exterior of the pizzeria:



Screenshots of the interior graying of the building:



Functions:

• Working light and doors.
• Accompanying Music that immerses the player in the atmosphere on the map.
• Day and night mode. Mobs are friendly during the day. At night they attack you and want to kill you. So try to hide during this time.
• There is a safe room on the map where you can wait out the terrible time. There are working doors, but to open them you need to find the buttons. They are found somewhere near the toilet.
• It will not be possible to get out of the pizzeria at night, as the exit will be blocked. During the day, you can easily leave the building.
• Foxy's curtains become open at certain times of the night.
• If you want to watch how the animatronics dance, click on the red button, which is located near the stage. After that, the Showtime Event will begin, which will be accompanied by bright lights and festive serpentine.
Five Nights at Freddy's [Realistic] Map