Sky Island All Blocks In Minecraft [BETA V. 1.0.3] Map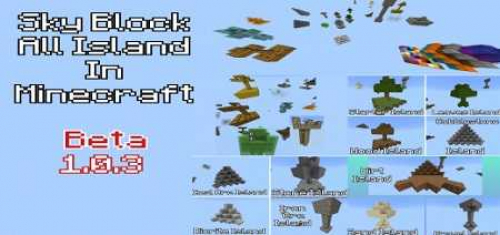 Sky Island is a map where 20 islands from different blocks are floating in the air. This world is still being developed, so stay tuned. Your goal is to survive on these islands with limited resources. At the same time, the island is located above the empty one and you must be careful not to fall there. You have to fight and win the ender dragon.

Where to start the game on such an island?
On the starting island, you need to chop down a tree to make items later. Craft a cobblestone generator so that you can produce it endlessly. Plant a seedling so you always have materials.
Then you can proceed to explore the entire territory, just be careful.

Play honestly, no cheats.
Your inventory is saved.
Play in survival mode.



Main rules:

Islands shown on the map:

The very first one you appear on is called Starter Island.
You will need these items:



10 pieces of cobblestone.
6 pieces bone meal.
Two oak saplings.
One ax made of wooden.
One piece of ice.
And a bucket of lava.

2. Leaves Island, this one is made entirely out of blocks of leaves and looks like a big tree.
3. Wood Island, wood sides everywhere.
4. Strong Cobblestone Island.




5. Coal Ore Island, there is a lot of this resource here.
6. Stone Island
7. This you have not seen - Diorite Island.
8. Powerful Iron Ore Island.




9. This you have not seen - Dirt Island.
10. Yellow Sand Island.
11. Gravel Island.



The new update added 9 more different islands, ranging from Gold Ore Island to Glass Island. Each of the islands consists of one block. The list includes: Wool, Copper Ore, Haybale, Chest, Slime, Honey and Prismarine.
The author is constantly updating this map so that players can enjoy the game even
Sky Island All Blocks In Minecraft [BETA V. 1.0.3] Map