Star Wars Maps for Minecraft PE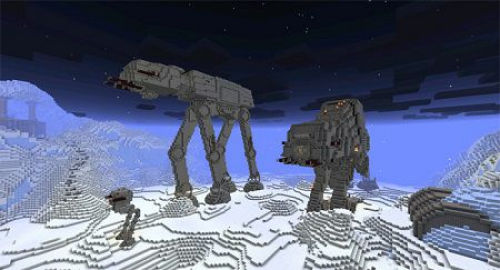 The developers of Star Wars maps have added space content from the popular movie franchise to Minecraft. New quests, adventures, locations, mobs are waiting for you on the maps, which we will tell you about later.

Star Wars Walkers

In this world, the author has created replicas of walkers from the famous Star Wars saga by George Lucas. You seem to become a participant in all the space events from the film.

These cars convey the atmosphere of the movie and add uniqueness to the Minecraft environment.

There are only five walkers on the map, and each of them is unique. Walkers on four legs, with formidable metal limbs, are ready to go through any territory, inspiring with their greatness and power. The rest of the walkers are compact and elegant, standing on two graceful legs that give them a special grace.

These robotic machines are like technological works of art, with fine details and stylish design.



Star Wars Theme Park

Star Wars fans will definitely love this map, because it has a lot of fun buildings and pixel art.

It all starts with roller coasters and ends with mini-games. The design of the card is incredibly high quality.

Some map attractions look like scenery, such as the Ferris wheel. And there are those with which you can interact, for example, you can go for a walk to view the ship: "Star Destroyer" from the inside.

Art Vader slides are the most popular in this park.



Star Wars Battle

If you want to be part of the great battle between the rebels and the forces of the Empire, then this map is for you. You need to choose the side for which you will play and start the battle.

The landscape of this map delights with its diversity and grandeur. The structures scattered around the map represent a real space world in Minecraft. The player can explore each location in detail.


Star Wars Maps for Minecraft PE