Marvis City 10.0 Map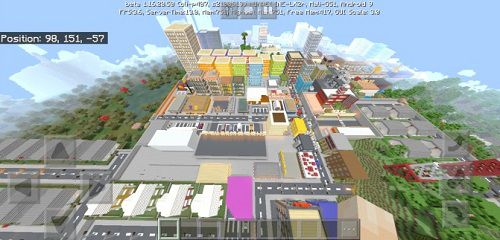 Hurry up to explore the metropolis on the Marvis City 10.0 map to find the best place to live. For comfortable living, from classy residential areas, parks, libraries, cinemas. This huge city, with a large number of various structures, can not only be explored, but used to create Minecraft role-playing games.

The author did a great job to create Marvis City for Minecraft on Android. The city in the game consists of several large districts:

• Main - shops, offices, apartments, skyscrapers, hotels, and banks are concentrated here. It was from this part that the city developed.
• Federama is a more picturesque area, with the same buildings, complemented by a beautiful park and a Japanese-style palace.
• RedHouse - here all the architecture has a Scandinavian style in the form of cozy red houses. But there are also other typical urban buildings for entertainment and living.
• Mesa - it seems that here is just a desert life, but even here there are skyscrapers and even a seaport.
• New Marvis
• Prince District

In the new version, the author added expand the city by adding even more districts.

New buildings have also been added.

Some buildings have been removed.