Tree Capitator + Vein Miner Add-on 1.20+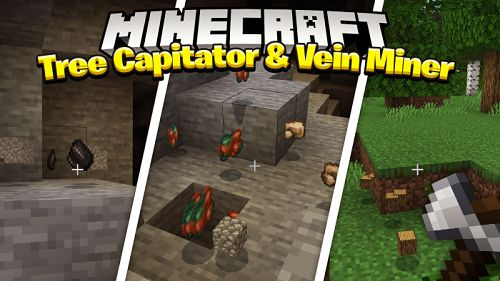 Increase your efficiency when collecting resources and during survival by downloading The Tree Capitator & Vein Miner addon. This combination of features will improve your entire process in one click. And for those frustrating ore mining marathons, Vein Miner is at your service for instant mining. What's more, these two robust tools have been seamlessly merged into a single entity, giving you the flexibility to activate them individually as the situation demands.

Bid farewell to sluggish resource collection and welcome a more seamless gaming experience. Get your hands on the ultimate tree and ore mining tool today and savor a trouble-free adventure in the Minecraft universe!

Tree Chopper

To cut down an entire tree, you just need to sit down. This magic applies to all types of trees and even in the nether world. And no matter how huge the tree you meet on the way, it will not resist your magic.

Miner

To mine ore, simply crouch down and start breaking blocks in the ore chain. This trick will work with any type of ore. And don't forget, by default, fast ore mining is enabled in the settings.


Tree Capitator + Vein Miner Add-on 1.20+