Chile (Chilean craft) Addon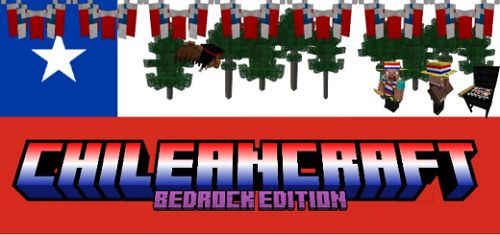 Immerse yourself in the captivating world of the Chile Addon, where an array of novel features unfolds before you. From functional blocks to captivating artwork, intriguing mobs, and vibrant flora, this mod breathes fresh life into your in-game universe!

Within the constantly evolving landscape of Minecraft PE, creators frequently forge add-ons inspired by a multitude of nations. This time, players will venture into an immersive experience with the Chile mod, delving into all things Chilean. It's a delightful immersion, from the mouthwatering national cuisine to the unique clothing, the exotic wildlife, and an assortment of blocks. These blocks not only feature captivating textures but also fulfill practical functions, adding depth to your gameplay.



Blocks and items



The developers made a dedicated effort to enhance the Minecraft universe by introducing over 77 distinct block variations. This extensive collection includes a wide array of materials such as stones, bricks, and wood. Furthermore, it showcases unique blocks featuring the flags of different countries, among other exciting additions.



A significant metamorphosis ushered in by the Chile Mod is the blossoming of Minecraft's botanical landscape. Uncommon and visually enchanting flowers and cacti now grace the terrain, enhancing the overall aesthetic allure.

For aficionados of art, the creators have considerately integrated several paintings portraying renowned personalities, bestowing a touch of cultural opulence to the in-game adventure.

Chilean craftsmanship further introduces a spectrum of meticulously detailed costumes, catering to those who relish the finer intricacies of character customization. Furthermore, for enthusiasts of copper-based armaments, the add-on introduces an array of copper tools, ushering in an exhilarating new dimension to the gameplay.





Mobs



With the Chile mod, Minecraft enthusiasts now have the opportunity to introduce an array of fresh mobs to their gaming realms. Each of these mobs is uniquely attired, bearing a striking resemblance to the denizens of Chile. It's important to note that not all of them may coexist peacefully, as some might harbor hostility towards one another. This dynamic adds an extra layer of intrigue and complexity to the in-game ecosystem.


Chile (Chilean craft) Addon