Swamp Monster Add-on 1.16/1.15+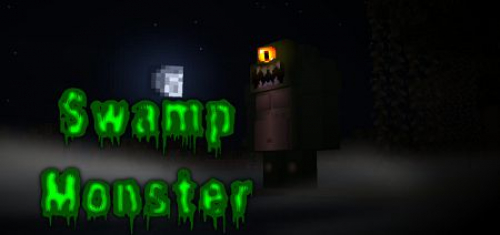 Do you often visit the swamps in the Minecraft world? If not, then a new addon will fix it. This addon adds new creatures to the Minecraft world, namely to the swamps. Using this addon in addition to witches and slugs, players will also have to beware of the new Swamp Monster. Yes, the swamp is already a rather creepy and inhospitable place, but the new monster will allow players to add more danger to this place and, accordingly, a new challenge for desperate and brave players.

We draw your attention to the fact that the new monster will see you even from afar, all thanks to his big eye. Will attack you only when you get closer to him.

Let's take a closer look at all the features of the new mobs below.

As mentioned earlier, a new creature will be added to the Minecraft world, namely the Swamp Monster, which has only one big eye and a rather frightening look.

If the player dies from the clutches of this monster, he will take the loot that you drop for himself, so be careful. Before heading out to fight the swamp monster, make sure you are well-prepared for the battle. If you die, the swamp monster will take all your valuable items.



What valuable items can the Swamp Monster be interested in?



The first thing a monster might be interested in is an iron ingot and iron items such as a sword and armor. The second, and perhaps more valuable thing for you, is a diamond ingot and diamond items of armor and weapons. Others are food items such as potatoes, carrots, wheat, and bread.

We also want to reassure you that if the monster kills you and you lose your items, you have the opportunity to return them back. It's simple, just try to kill the same mob next time, after which it will drop your items and some new useful ones. After death, he always drops such an item as the Heart of the Sea!



The new creature is hostile not only towards players but also towards sheep, villagers, and iron golems.



Please note that if Lightning strikes the Monster, it will become much stronger, faster, and bigger!





Swamp Monster stats:



1. Swamp monster: This creature has 200 health points and can deal 12 damage to its enemy.

2. Mutated type of monster: This creature has 250 health points and can deal 15 damage to its enemy.

Below is a screenshot of how the two types of monsters look in the Minecraft world:



We also draw your attention to the fact that there is no specific spawn specificity, these creatures spawn both during the day and at night.

Be careful at night, look around, and listen carefully. These creatures have eyes that emit light at night, and they make sounds of growling.

May have projectiles. They can also pick up a block from the ground and throw it at their enemy.

A mutated type of monster can use its eye to attack, which can shoot a special light beam.
Swamp Monster Add-on 1.16/1.15+