Presents! Add-on 1.17+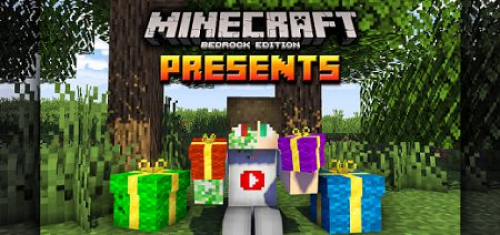 Do you like gifts? If yes, then Presents Addon will definitely appeal to you. In this addition, special blocks appear, which are called Present. There are objects inside the block, in order to get them you need to destroy the block. Such blocks can be gifted to friends. At the same time, the blocks are accompanied by various sound special effects, which makes this add-on ideal for the upcoming holidays. Arrange a holiday for yourself and your friends.

Winter holidays will begin soon, and of course, you cannot leave your friends without presents. This addon will save you.

You can leave your surprise right at the door and surprise and delight your friend.

This addon allows you to gift up to four gift boxes that stack on a block.



This unit has a light effect and can glow in the dark.

In order for you to be able to open the present, you need to destroy it in survival mode.



P.S. The furniture you saw in the screenshot from Arexon's FurniDeco add-on

What functions does the addon have:

You can place up to 4 presents per block.

To glow, and the larger the box, the brighter the glow.



Available for all languages.

Supports multiplayer game.

Valuable drops may be caught

The colors of the Gift Boxes are randomly selected. They are also arranged in a different order.

Accompanied by sound effects, as well as particle effects (serpentine, sparkles, etc.)