EAT | Food Add-on 1.17+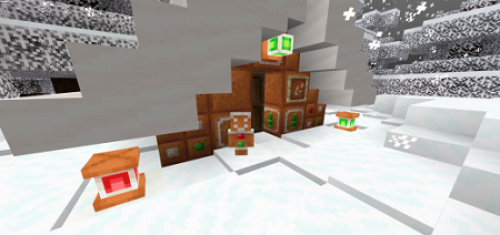 If you still do not have enough food in Minecraft and you are constantly starving, then this is for you - EAT | Food Addon. This addon has many types of food, with different new textures and lighting effects. Added different glaze colors, gingerbread, Ginger Golem and a new item called Ginger Lanterns that can glow beautifully like Christmas lights.

The EAT addon (note how it is written, otherwise you can choose something else) adds some additional products to the game and changes some of the cooking mechanisms. This is done to diversify the gameplay and increase the choice of food.

Further about the new products.

And the first of them is the unusual Pie with Luminous Berries. It is made from eggs, sugar and the actual glowing berries.
Also in this update is the Gingerbread and the Giant Gingerbread Golem, which can be summoned by right-clicking on the Gingerbread Golem with the immortality totem.



Some more changes concern new textures and graphics. Added a new item - Ginger Lantern. He can change modes. For example, if you right-click on it, the color will change, and if you still hold down Shift, the top cover will open.

It can also flash like a garland, for this you need to right-click on it with sugar.

Enjoy the new addon.