SQTH Ores Add-on 1.17+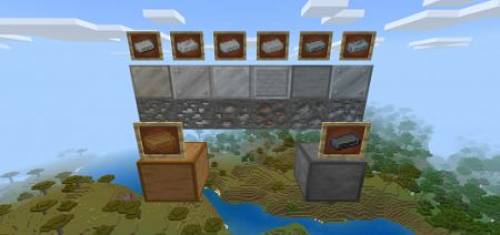 If you wanted variety and your hobby is to collect various ores, but you are already tired of the usual ones, then I suggest installing SQTH Ores for you. This is an add-on, in which there are many new ores that were not there before, they can be used in other add-ons by the author.

Advice. It is better to use this supplement with others, so it will be more useful and more interesting.

I will list everything that you can find in this file.



New ores and minerals



Aluminum

Found at levels 0 to 182. Generated between: y 0-182
It takes 20 iterations.
The maximum number of drops is 17.



Lead

Generated at levels 0-78.
It takes 14 iterations.
Drops a maximum of 9.



Nickel

Found at levels 0-89.
Iterations 16 times.
The maximum number is 11.



Silver

You can find it at level 0-46.
Requires 8 reps.
Drops 9



Tin

Generated at levels 0-74.
Iterations: 13.
The maximum amount of ore you can get is 9 pieces.



Titanium

Found at levels 0 to 64.
20 repetitions of actions to obtain.
Can drop 11.



As always, raw minerals fall out of the ore, in varying amounts. In order to process the mineral it is necessary to remelt it in a furnace; they can be remelted in a furnace or in a blast furnace.

You can also make Alloys of some minerals.



To do this, use the melting furnace as shown on the skin.

Below I will list all the possible alloys and their recipes from the supplement.

You can make Bronze. This requires 5 copper ingots and 1 piece of tin ingot.



To make Steel, you need 8 iron ingots and 1 coal.



In the future, in order to improve this add-on and it could be used separately from others, it is planned to add such elements as Raw Ore Blocks, Deepslate variants of the ores, some Tools & Weapons, new Armor and Nuggets.