Op Diamond Add-on 1.17+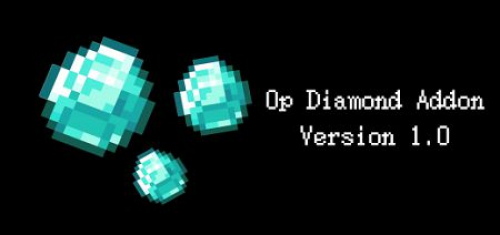 Op Diamond Addon V1.0 - this addon is for those who have difficulties with the extraction of resources, namely diamond. Thanks to this add-on, you will have 3 items in the game that will simplify the extraction of the diamond. Have fun and craft cool items with this addon.



What does the addon add?



You will have such an item as - Diamond, this is not the one you thought. It produces the same diamonds 5 times a minute (every 20 seconds).

To craft it, look at the recipe in this picture.



The second innovation with which you can get diamonds is the Diamond Flower.

You need to search for this flower in desert biomes and Mesa, where it is generated. Use this plant to make diamonds.

You can see how this type of plant looks in the screenshot.



Moreover, the last thing in this mod is Diamond Geode. It is generated in the same place as the Diamond Flower at levels 43 and below.

The image shows what it looks like and where you can find it.



Please, if you have any glitches during the game - let us know in the comments about them. Have a good game everyone.