True Weapons Add-on 1.18+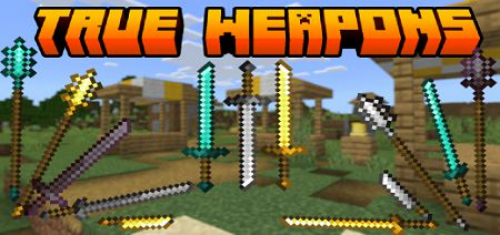 True weapons is a small addon that adds new types of weapons from a different composition. The new action mechanic will amaze you. The game will be able to use a katana, swords, mace and knife.

The peculiarity of the mod is that it works with other addons as well.



Description



The first type of weapon is the Barbed Mace. This species attacks a large surface, acts at a slightly distant distance.



It can be made of different materials, the amount of damage depends on this.

For example, a wooden barbed mace deals 4 units;

Golden barbed mace - 4 damage.
Stone - 5.
Iron - 6.
Diamond - 7.
In addition, the greatest damage is inflicted by non-ferite - 8 units.

Katana attacks pointwise. The damage is also based on the material of manufacture.

- Made of wood or gold - 5 units.

Stone - 6.
Iron - 7.
Diamond - 9.
And, of course, the greatest damage is inflicted by non-terite - 10 units.



The knife does little damage, but if you hit the target, you are affected by the "speed" effect.

Wooden knife and Gold attack for 3 damage, while the duration of the effect is longer.

Stone gives 4 damage.
Iron - 5.
Diamond - 7.



Long sword - deals very high damage, and if you hit it gives the effect of "slowness".



Wooden sword and Golden sword attack for 6 damage, Golden sword imposes less effect.

Stone gives 7 damage.
Iron - 8.
Diamond - 9.
Damage from the netherite sword is 11 units.

There are also legendary weapons in this add-on. See screenshot below.


True Weapons Add-on 1.18+