Buildable Campfire Add-on 1.18+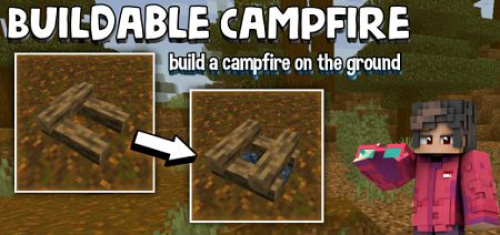 How about a warm fire on the ground? You think this is impossible in Minecraft, but with the help of the Buildable Campfireaddon it will become real. Yes, it is thanks to this addition that you can make a fire without using a crafting table.



Description of add-on



All you need is 2 logs, 1 charcoal, and the kindling tools (flint and steel). This is less resource-intensive than building a bonfire in normal mode.
Further in detail with screenshots for clarity.

You have to find some logs, any other than Netherwood will do. Next, you need to make parts of them.

Next, you need coal, flint, steel. Do everything as in animation. Upon completion, you will receive a real bonfire.



In addition, all these logs can be used as raw fuel; the duration of the action is 40 seconds.



Note

Before using the mod, enable experimental features.


Buildable Campfire Add-on 1.18+