Fantastic Creatures Add-on 1.18+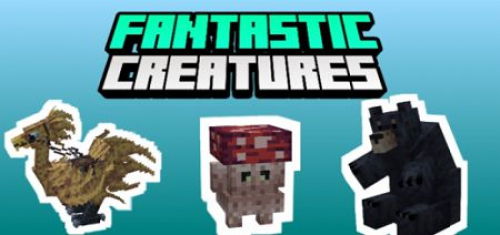 How about diversifying the game and making survival in the Minecraft world more difficult? Fantastic creaturesaddon copes with these two tasks. New creatures with boss behavior will now appear in the game. They are unique and perfectly add novelty to the game, making it more interesting.

Chocobo:


The bird is large.

Moves quickly on land, is able to swim in water.

Has a high jump.

Generated everywhere, most often found in thickets.

Domestication: gysahl.

After taming, you can install the saddle by clicking on the mob (to remove, use the scissors).
Black bear:
Aggressive animal. Attacks all creatures.

Inhabits mountainous and forest areas.

Can be fed with honey so that it does not attack the player.

Grow faster with raw salmon.
Sporelung:
Looks like a mushroom.

Has a hidden attack method.

Can become a friend for the player if you start trading with him.

There is no specific biome where it is generated.

Drop is not known.
Gysahl:
Now grows in meadows.

4 stages of growth.

Acceleration of growth is possible with the help of bone dust.

Fruit is harvested only in the last stage of growth if the plant is broken.
Fantastic Creatures Add-on 1.18+