Achievement Add-on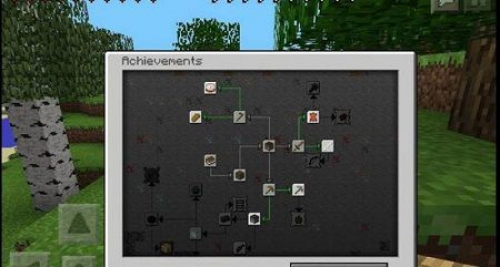 Friends, if you didn't have enough achievements from Java Edition, then install Achievement addon for Minecraft PE. This add-on adds several unique achievements that are not in the newer versions of the game. Play with purpose and enjoy it.

Previously, there was no Achievements feature in the mobile version of the game. They were only available in Minecraft Java Edition. But with the advent of new versions of the game, the developers have added this feature to the Pocket Edition.

But there are many more unique achievements that this build adds to the game. The game will become much more interesting if the player has a goal, and this addon copes with this task perfectly.



How does the addon work?



Press the "A" button on the right side of the screen to activate the achievements.

Now you will receive interesting tasks that you will need to complete. For completed tasks, the player receives rewards.



The game takes on some meaning. This is suitable for those who do not know what to do in the game.

Completed tasks will be visible to the player in the upper right corner, similar to the Java Edition.

All achievements have a sequential complication. For example, the first task will be to cut down trees in order for you to have wood.

Next Achievement: Make a crafting table where you can craft a wooden pickaxe.

You can only play while completing achievements, but if you get bored you are free to do something else in the game and then return to completing tasks.





Main and additional tasks



The game has a main storyline and related achievements.

You must create a stone pickaxe, make iron ingots and produce diamonds.

All this will lead to the creation of a portal to the Nether dimension.

In the infernal fortress, you will have to fight the hostile Blaze mob and create an Ender Eye, which will lead you to the fortress and you will enter the

End dimension, where you will need to defeat the main boss of the game Ender dragon.



But, of course, there are other secondary achievements. For example, players can engage in breeding animals and growing plants. Or culinary. If the player likes to gain experience in battles, then he can improve his shooting at the skeleton from fifty blocks.

There are tons of achievements that suit any interests of Minecraft users.





Java Advances



Achievements for Java Edition are different from Bedrock Edition. If you're playing on PC, you can also install the Java Achievements mod, which adds new achievements to the game. Adventure and survival will become much more exciting.