Naruto Battle Add-on 1.18+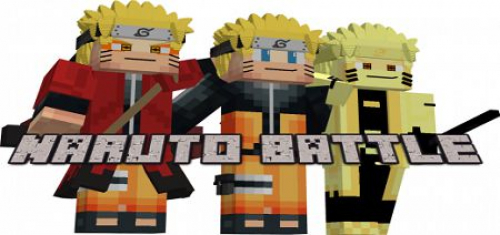 If you are Naruto lovers, then Naruto Battleaddon is what you need. This add-on allows you to fight against the hero of the Japanese cartoon, using his abilities. On the other hand, Naruto will be your friend and help you explore the world.



Naruto



Generated naturally or using spawn eggs. Items drop when destroyed.



Rasengan jutsu

Naruto's popular jutsu. To use this weapon you need to press it for a long time. You can create a sphere endlessly, but you can only hit twice. Then you need to wait a while.



Band ninja

Gives a cool look. The player gains Speed 2 and Jump Boost 4.



Shadow clones

• Takes 1 unit of health.
• Has 1 health heart.
• You can call several pieces up to 50 at once.
• Can be used indefinitely, but with a small cooldown.



Sanin

Appears after you destroy the normal Naruto.

Approximately 50% stronger.

Has many abilities.

Drops items.



Rasen Shuriken

A very powerful skill.
Destroys an iron golem and causes great destruction.
Can be used indefinitely, but with a cooldown.



Ramen

Nutritious food.
Can be used to tame Naruto's allies.





Naruto Kyuubi



The strongest version of Naruto. One and a half times stronger than Sannin and twice as strong as normal. It is the most dangerous mob from the add-on, capable of teleporting. Drops items when destroyed.



Kunai God of Flying Thunder.

It has no gravity, a fast item, it can be used to teleport.



Biju Rasen Shuriken

The strongest skill. You can destroy a village with one skill.

An infinite and extremely dangerous item.





Allies of Naruto



After defeating the ninja, you will be able to get a spawn egg, from which friendly Naruto are obtained. To tame them, you need to feed them Ramen. Then the mobs will follow you and help with the enemies. These mobs are distinguished from hostile mobs by the presence of a blue bandage.


Naruto Battle Add-on 1.18+