Bakugan Battle Brawlers Add-on 1.18+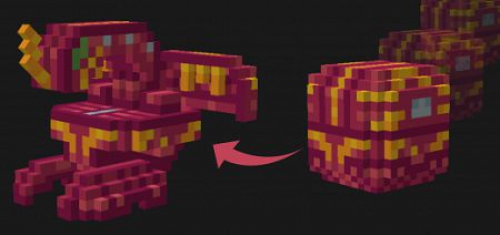 Remember the childhood hit - small Japanese creatures of different elements? Now the same little animals have appeared in the Minecraft universe thanks to the Bakugan Battle Brawlers addon. The add-on is made based on the anime series of the same name Bakugan Desperate Fighters.

All of these creatures are purely decorative, but have animations.

In the world settings, turn on the experimental options.

List of available Bakugan.

Dragonoid

This Bakugan is wielded by the main character of this anime, Dan Kuso.



Preyas

This creature is owned by the rich and kind boy Marucho Marukura according to the plot of the anime.



Skyress

The owner of Skyress in the anime series was Shun Kazami's childhood friend.



Tigrera

Runo Misaki, in love with Dan, was the owner of Tigrera.



Golem

Julie Makimoto is a kind girl who possessed Bakugan Gorem.



All Bakugan have no function other than decorative.

Bakugan can be found in the creative inventory, in the creature creation eggs section.


Bakugan Battle Brawlers Add-on 1.18+